---
Making Peace with Prickly People
Transforming Relationships by Loving God, Self, and Others
"I need to read this book because I tend to attract 2 kinds of people, first the ones who suck the life out of you and the second who push you to the point of being crazy. LOL" Tara Andrews Spearing 
---
Get the book…
Buy it on Amazon
Buy it on Barnes & Noble
---
I asked my FB Friends: "Why do you need to read this book?"
"I think learning these skills is vital to my survival! HELP!" Candice Collinsworth Hope
"I need to read this book to bring me closer to being the person God intends me to be and because I am at times a 'prickly person'." Kimberly Giles-Hill
"I teach middle school students – the very definition of prickly people – and in my family I am surrounded by prickly people. I try to respond in love, but I'm not successful when my SELF gets in the way." Linda Vaughan Wright
"Always in need of encouragement on how to heal/deal with prickly relationships, as well as taking a deeper look into who I am and where I stand in the relationship as well." Kerry Krause Albertson
"I need to read this because it's intriguing and because we all have the potential to be 'prickly' at times." Leah Colleen Chism Fort
"I need to read it because I am the Human Resources Manager of 70 employees!!!! Also…I can be quite prickly myself." Jamie Hoover
"I need to read this book! I'm ready to stop letting the people that make me mad or make me sad or make me nervous, make me anything! #readyforpeace" Leah Roberts
"I need to read this book because I am a prickly and have pricklies in my life!" Kristy Sterken
"I need this book. I can be one of those prickly people on some days and I need a helpful resource to point me to Jesus on those days." Debbie Coyne
"I need this book because I have dealt with and continue to deal with prickly people. Prickly people have caused a lot of grief in my life." Mary Whit
"Deal with them all the time!" Rebecca Berry
"I need to read this book bc I have more than enough prickly people in my life and I need to know how to better respond to them and making peace even if we don't agree. Prickly people can cause me to loose sleep and effect my attitude and I need to take control and stop allowing them to get to me. I need to find true peace within no matter what the person wants to be towards me." Audrey Baker-Maag
"I have a prickly person in my life & I can be prickly too." Debbie Coyne
"Because I need help with loving myself to help to learn to forgive and love people." Wendy Hardy
---
---
 30 Days of Prayer for you in a Prickly Relationship
30 Days of Prayer for You-Know-Who!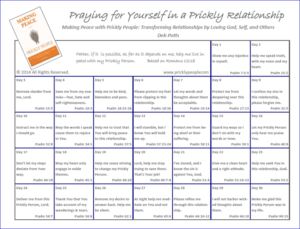 ---
6 Week Study Guide Designed for Girlfriends, Includes Leader Notes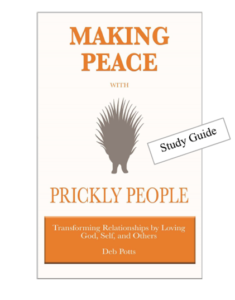 ---
Contact Deb for your next Women's Ministry event:
---
10% of my Book Sales will be Donated to Musalaha. 
Help support a wonderful cause bringing peace between two prickly people groups in the Middle East. View this Video for more information.