Thank you to all who participated!
---
Mindful:
Meditate & Color Your Way to Life-Giving Relationships
Life-giving relationships fulfill you. They enrich and empower you. We are created by God for relationships and everything we do involves other people. So why are relationships so challenging? As you dwell on these Bible meditations, you will be aware and alert to the possibilities of finding life in your relationships.
This 30-day devotional is divided into three sections, each exploring a different type of relationship. Each entry combines a Scripture verse, a short description, and personal discovery questions. As an added bonus, there are three beautiful coloring pages included as a free download, just click below to register for them.
THE KINDLE VERSION OF MINDFUL IS NOW ON AMAZON JUST CLICK HERE!
---
Register for Complimentary Coloring Pages
Mindful comes with an added bonus – three full-size coloring pages to enhance your meditation experience. If you are one of those people who learn best by touching and doing, these coloring pages are for you. Designed by my cover artist, Macy Simmons (see below for more on Macy), there is one for each section of the Kindle book. See the example below. Click the images to register and start coloring!
---

 Why I Wrote this Devotional
My own personal journey of healing from anger and making peace in my relationships was such an amazing thing I wanted to share it with others. I began speaking on this subject in 2006. Gradually I put the story in written form and published Making Peace with Prickly People in 2016. It wasn't an easy journey but I wouldn't have missed the lessons learned for the world. Being at peace has changed my life! Visit pricklypeople.com for more information about this book, and freebies including a 30-day prayer calendar, PersonalityKey© Assessment, and a 6-week study guide.
In 2017 I put the Scriptures from Making Peace… together into a 30 day devotional… and Mindful was born! I was praying about including coloring pages with this book, since I LOVE coloring. By chance, I discovered Macy Simmons was also praying about how God could use her artwork in a new way. One quick look at her Etsy page and I knew it was a match made in Heaven.
What a great partnership we have! I am so blessed to include Macy's beautiful work as a download for the Kindle version of Mindful. Soon the print version will be available with even more of Macy's "doodles." Stay tuned!
---
The three sections of Mindful include Love God, Love Self, and Love Them.
Love God
Love God: God watches us from heaven, his heart on his sleeve. The most powerful force in the universe is a sucker for the very love he invented. God woos us and invites us to love him back with all our heart, soul, mind, and strength. He longs for a deep relationship with us. Meditate deeply on key Scriptures to discover his deep, perfect personality and fall in love with him all over again.
Love Self
God lovingly created each of us in his image – blessing each of us with a touch of Jesus-Genius. He longs for us to discover our genius and use it to serve him and others. Sometimes shame, guilt, and wounds from the past can cause us to wear a mask, living in a false identity. God wants us to find healing and take off the mask so we can make peace with ourselves. Scriptures will point you to the abundant life God intends for us, nurturing and healing us with the balm of his eternal word.
Love Them
Prickly relationships usually cause us to think the other person needs to change, and we keep trying to get them to do so. But that never works! Every prickly relationship is made up of two prickly people. There is a pattern of communication and interaction that causes emotions to escalate and the pattern repeats itself. If one of the prickly people (you?) change their pattern, the relationship will change, even if the other person doesn't. Jesus knew lots of prickly people on earth, and he leaves us with a wealth of advice on how to get along with them. Be inspired by his teachings to love them even if they don't deserve it.
---

 About the Artist, Macy Simmons:
From a young age, I've always had a love for creating. What began as a way to ease boredom in school and make free birthday gifts for friends has led to an Etsy shop, and my first published art (Mindful)!
I currently live in Atlanta, Georgia, but was born and raised in Rochester, Michigan. I typically spend my days mentoring college students through my job with Athletes in Action, hanging with my awesome husband Solomon, and snuggling with my kitten.
If you are interested in more of my work, be sure to check out my website. I truly love knowing that through my shop, God's incredible truth can hang on the walls of homes throughout the country! I am always looking for new ways to create, so if you have any ideas or requests, feel free to contact me at the Etsy page.
---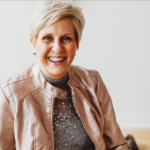 About the Author, Deb Potts
God called me to follow Him just at the brink of a family tragedy.  I love to share my amazing journey of healing with anyone who will listen. My greatest joy is passing on the wisdom God has taught me about forgiveness, healing, and destiny.
I live in Michigan (where the people are hardy) with Bruce, my husband of over 40 years. We have two married children and 2 grandsons. In my spare time, I love to hike, read and crochet. Bruce and I, along with my sister Kathy and husband Craig have set a goal to hike One Million Steps across America, state by state. We've completed 29 hikes so far: over 700,000 steps.
I'm a Christian inspirational speaker, and I love to equip and encourage women to find exceptional life in Jesus. Contact me and let me know how I can serve your women's ministry group. Visit debpotts.com/contact.
Got a Prickly Person?
Subscribe here and receive my complimentary
Prickly People Prayer Calendar.
30 days of prayer for you, and 30 days of prayer for Prickly!