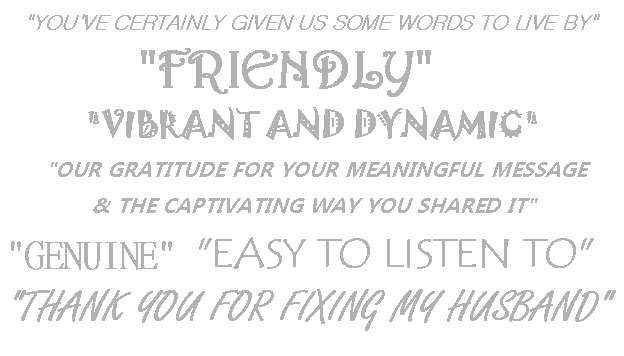 ___________________________________
Thank you so much for making our Women's Christmas Dinner a truly meaningful and inspiring event. I had many women come up to me afterwards and tell me how much they enjoyed your message. I would highly recommend Deb for an event like this. Thank you!
Liz Kaars, First United Methodist Church, Byron, MI
What an anointed speaker and very humorous, too! Life can be very serious and Deb can bring "laughter like a medicine" into her books, as well as her speaking!
Karin Lackey, Ezra Project – Word Alive, Lapeer, MI
What an absolutely wonderful experience for our Women's Connect. Deb was a gracious and eloquent speaker. She filled the room with her humor and God's love! I highly recommend her!
Shannon Johnson, Lakeshore Fellowship, Spring Lake, MI
Deb spoke for our Ladies Luncheon 3 years ago, and when we were planning this year's luncheon all immediately agreed to have her back. Her warm and caring personality shines through as she speaks from the heart with complete honesty about her own life making her presentation come alive. She shares incredible insights into dealing with "Prickley People", the topic of her presentation, in a way that all of the ladies attending could relate. There were many positive comments being made by the ladies on Sunday following the luncheon.
Theresa Meegan, Meadowbrook Christian Church, Rochester, MI
We really enjoyed having Deb as one of our breakout session speakers at our annual retreat. She spoke on forgiveness, and used visual tools to drive her points home. She was transparent about herself, and easy to follow. She was wonderful about communicating with the staff in the planning stages of the retreat as well.
Spring Mulder, Co-Chairman Women Today Retreat, Sault Ste. Marie, MI
Deb blessed us the moment she walked in the door. She took the time to pray over each place at 14 tables of 6. She joined us for simple meal & was pleased to spend the night in a city with a woman she had never met, me. She was well prepared yet willing to let the Holy Spirit speak. She had handouts, an ice breaker & a message about transforming relationships by loving God, self & others. She shared how God identifies us & Himself and how we could make His vision of us a reality. Deb taught us about the strength, the heart, the mind & the soul of God. She reminded each of us that God looks at our inside & says "I delight in you!". Deb encouraged each of us to be Gods ghost writer & to author our own epic masterpiece. She referenced scripture & shared her personal testimony. There were women from age 12 to 90 there. Both ends of the spectrum & those in between said they learned something memorable & helpful in their walk to a closer relationship with Jesus.
Connie Schepers, Rehoboth Reformed Church, McBain, MI
What an awesome day! Deb was a joyful, fun person to be around. Her love for the Lord and others radiated from her. All evaluations received back from those attending the seminar spoke very highly of her. Deb was a delight to work with and a very accomplished speaker. Look forward to having her back in the future.
Becky Hoath, President, Women With Faith Conference
Thank you from the bottom of my heart for speaking at our Advent by Candlelight events. Your story is one of faithfulness amid the greatest grief. The beauty in your heart can be felt by all of those around you. I am grateful our paths crossed. A new friendship has been formed.
Kelly Carey, Milford Presbyterian Church, Milford, MI
Deb Potts is a dynamic speaker who passionately shares God's truths. Her presentation was entertaining, instructional and engaging. She made us laugh, and she brought us to tears. I highly recommend Deb for her ability to share insights into loving and serving the Prickly People. She confidently mingled with the hundred plus women in attendance and shared a free Praying for your Prickly Person devotional calendar. I hope you will consider allowing Deb, a passionate sister in Christ, to bless your group through her truth filled teachings.
Kathy Dork, St. John Lutheran Church, Rochester, MI
Thanks so much for speaking at St. John Lutheran Church Ladies Advent Brunch. It was a blessing to hear your message "Prickly People in the Christmas Story." You explained how Mary and Joseph participated in bringing our Savior into the world despite a "prickly" situation and "prickly" people. The women enjoyed the talk, many saying that it was just what they needed to hear right now. May God continue to bless you in your ministry to women.
Julie Raguse, St. John Lutheran Church, Rochester, MI
I valued your session so much and am grateful that God has anointed you to bring forth these tough topics. I know so many women who truly want to love and forgive as Christ loves and forgave, but are stuck in anger and pain. God is using you abundantly Deb!
Gwen Radomski, Kensington Community Church, Orion, MI
We first heard Deb at the Kensington Church SMASH Women's Retreat. Her session was so popular that there were no seats available in her room. I stood outside the window with one of my steering team members and listened to her talk, "Making Peace with Prickly People." Deb was insightful and inspiring. We asked her if she would be willing to talk to our moms' group and she enthusiastically obliged. We have heard lots of positive feedback from the moms in our group and several have asked us to ask her to come back and talk again next year. Deb has a warm, authentic speaking style and is very relevant and engaging. I look forward to hearing her speak again!
Heather Kapanka, Kensington Community Church, Orion, MI
Debbie is a wonderful and dynamic speaker. I attended a session she spoke at during one of my church's women's retreats and I was so moved by her words! Her delivery is equal parts humor and truth, and she speaks with a conviction that indicates her whole heart and soul are behind her words. Her wisdom and practical application steps on managing relational conflict really hit home for me! I would highly recommend Deb as a speaker and teacher.
Robin Wilson, Kensington Community Church, Troy, MI
I first met Deb through the Rochester Toastmaster Club, where I heard her speak and later take on leadership roles within the club. Deb has a sense of calmness and sincerity when she speaks. If you add in her discipline of preparation and topic knowledge, it is a joy to hear her. She has a deep conviction of spirit and beliefs; this coupled with her speaking skills, make for a truly impressive speaker. No matter the size of the group, you always feel that she is speaking just to you. Don't miss the chance to hear her! 
Judy Rasys, Rochester Toastmasters, Rochester, MI
You were wonderful.  I truly believe everyone grew a little in their understanding of personalities.

Terry L. Jordan, Connected Professional Women of West Michigan

Her hunger for God is evident to all, and her life inspires others to want to walk with Jesus.  Her character is exemplary.  She really does remind me of the Proverbs 31 woman.

Ann Wilson, Teaching Pastor, Kensington Community Church

Debbie did an outstanding job; clearly presenting her talk in a way where the audience could understand what personality they resembled the most.  I loved the way Debbie brought the book by Dr. Seuss "Green Eggs & Ham" into her talk as an example of a "prickly person situation".  I would recommend her speaking for any group interested in the different personality traits.

Beverly Tunks, Past Regional Representative, Stonecroft Ministries

Debbie's presentation on personality types was better than we even hoped for – very worthwhile information. We especially loved her explanation of why Jesus was separated from the Father on the cross. We are going to be talking about the different personalities, encouraging our friends and family members to take the personality test, and referring other groups to this fantastic presenter. Thank You!
Diane Hendrickson, Northwest Columbus Christian Women's Club
Debbie brought an insightful and refreshing message to the Meadowbrook Christian Church Annual Ladies Luncheon.  "What To Do When Your Bubble Bursts" gave us spiritual ways to handle difficult spots in our lives while she told stories that made us laugh, proving that God is with us with love and smiles when we need Him most.  Debbie graciously provided us with a CD of her talk since we were dealing with a failed sound system, so the CD was useful afterward for those who couldn't hear the message well.  Looking for a Christian motivational speaker on heavy subjects presented with a light heart? Call Deb.
Theresa Meegan, Meadowbrook Christian Church, Rochester Hills, MI
Loved Debbie's insight into the fact that "prickly" people aren't just the others in our lives that we can't get along with.  Quite the contrary–we are all "prickly" people to those whose personalities are different from ours.  More importantly, she shares her faith by bringing in the whole concept of us (because of the sin in our lives) being prickly people to God –people who need a Savior to bring us back into a right relationship with Him.  Good speaker, good visuals, good content. 
June Samson, Frankenmuth Area Christian Women's Club
I appreciated that Deb was so transparent. She was genuine and openly shared her personal struggles and faith walk. I also loved how she pointed us to scripture, and how we are to apply it to our own lives.
Kim Quist, Mt. Hope Congregational Church, Livonia, MI
I loved being seated with others with the same personality type. Helped me recognize myself and accept myself more. Because I knew I loved them, I could love these same things about myself. Left feeling motivated and in action instead of guilty or feeling broken.
Wendy Webber, Mt. Hope Congregational Church, Livonia, MI
I want to let you know how happy we are that we found you!  I really enjoyed your presentation!  You gave great information to help with introspection and also to review how we relate to others.  I appreciate the insight I have gained. I am reading your ebook and learning even more.
Jan Goffin, Mt. Hope Congregational Church, Livonia, MI
I appreciated your honesty and passion for God's work in you as well as how well you were organized and grounded in the Word.
Lynn Rife, Mt. Hope Congregational Church, Livonia, MI
Thank you! I have been struggling and burdened for over a year about something I have had zero control over. I have prayed so often about how to move on. When God revealed my prickly person I knew I could finally LET GO! 
Debby Whitaker, Mt. Hope Congregational Church, Livonia, MI
Thank you for sharing intimate, painful details of your life and letting us know that there is always hope!
Lesley Petersen, Mt. Hope Congregational Church, Livonia, MI
Deb was completely "present", fully engaged with God and the audience. She's terrific! Thank you so much for sharing yourself from the heart with meaningful illustrations. You are a great example for me of someone who is allowing God to work through her.
Kathy Chapman, Mt. Hope Congregational Church, Livonia, MI
"What to do when your Bubble Bursts" was the topic Deb Potts shared at our ladies group. The bubble machine was a great visual the talk was funny, unique, and practical. Our lives are like the fragile bubbles but God is in control and He has answers for us in the Bible. Thanks for sharing an encouraging message.
Linda Troyer, Elkhart, Indiana Women's Connection
Deb offers a unique perspective on how personalities affect goal setting and other areas of life.  She offers tips to be successful for each type, as well as yellow flags to consider.  Her approach is warm, open, and fun.  She relaxes groups and lets individuals make progress without judgment.  I highly recommend her!  
Lois Duerk,  PEO, Rochester Hills, MI
Thank you again for the study and for joining us today. I love your wisdom and peace. Thank you for placing an important perspective on how we deal with these prickly people whom God loves and desires them to be in heaven with Him too. 
Paula Spinks, Kensington Church, Troy, MI
I recognized that I was able to believe more in my strengths as a child of God and less in my influence over other people after studying Making Peace wth Prickly People. In my case, to be calm and stable and not emotional is very important when working with women. Loyalty and steadiness are important to me in my daily contacts. I don't like drama, that much I do know. I really got a lot out of the study. Looking forward for you to be able to publish this important guide. Such a good way to look inward and self-correct.
Carol Young, Kensington Church, Troy, MI
Got a Prickly Person?
Subscribe here and receive my complimentary
Prickly People Prayer Calendar.
30 days of prayer for you, and 30 days of prayer for Prickly!