Launch Day for Mindful!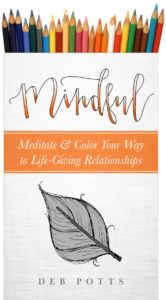 Life-giving relationships fulfill you. They enrich and empower you.
We are created by God for relationships and everything we do involves other people.
When you break a leg, your leg hurts. But when you break a relationship, your life hurts. God wants to breathe new life into your hurts.
This 30-day devotional is divided into three sections, each exploring a different type of relationship. Each entry combines a Scripture verse, a short description, and personal discovery questions. Saturate your mind with God's life-giving words of encouragement for difficult relationships.
As an added bonus, there are three beautiful coloring pages included as a free download.
Visit debpotts.com/mindful for more details.