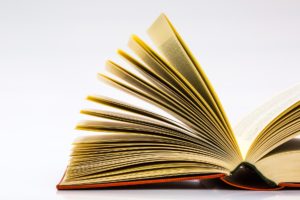 I love spring! The days are getting longer, everything is blooming, and I feel so optimistic. That's why I set goals in the springtime. I love to start with a Bible verse that summarizes my goals. I thought I'd share that process with you. Here's how to find a Bible verse for your goals this year.
Why choose a Bible verse for your Goals?
God's word is the foundation of my life. It applies to this age with just as much relevance as it did in ages past. The Bible is full of prophecies, which are really goals, written down long before they were accomplished.
Using Scripture to find my direction makes a lot of sense. God is omniscient, which means He knows everything. I like the idea of setting the course of my life based on His wisdom.
Another benefit of choosing a Bible verse for my goals is that I will memorize that verse during the year. The more Scripture I can commit to memory, actually living it as I go, the better for me. I need all the healthy brain cells I can get!
How to Find a Bible Verse for your Goals
There is really no formula for finding the right Bible verse for your goals. But here are some suggestions to get you started.
As spring gets closer, start by praying. Ask God to reveal a new path or direction He might be calling you to. I like to practice listening prayer, waiting expectantly for His answer.
Think about the current challenges you're facing and themes that have been recurring in your life.
Think ahead to next year – are there any major life changes coming? The birth of a new child, the graduation of on older one, becoming an empty-nester, retirement, etc. can all be incorporated into your theme for the year.
What is happening in my career or ministry? Are there obstacles to overcome or new projects to begin?
There's even an online quiz to help you find your life verse, this might help you in your search.
Start by listing words that come to you for next year's goals. Then begin your research. If you Google "bible verse for your goals" you will find many lists of verses that others recommend. Use a Bible app to look up the words you wrote down. Is there a verse containing that word that speaks to you? I have a free Goals Prayer Calendar containing 30 different verses and accompanying prayers. It's part of my Productive People group (see below). Check out those verses, you might find one that works well.
How to Keep your Goal Front and Center
Once you have chosen a Bible verse for your goals this year, you will want to put it in front of you somehow so you can't forget it. I used to create elaborate goals, using rhyming or acrostics, and lots of color. But I would put my sheet away in a drawer and never look at it again until the following year. I was always disappointed that I hadn't achieved one goal!
Here are some ideas to keep your goal front and center so you won't be like me!
Create a photo image of your verse. There are many ways you can do this. I use YouVersion on my smart phone. Then upload that image as wallpaper on your smart phone. Everytime you wake your phone up you will see that image.
Set your image as your sleep screen on your laptop. Print it out and put it in a frame on your desk.
Create an online Vision Board. I sometimes use Jack Canfield's Success Vision Board app. This app produces an image that can be used as your smart phone wallpaper as well.
Create a paper Vision Board. Here's a blog post I wrote about how to do that.
Above all, pray your goals every day, whether you work on them that day or not! Engage your brain and your God to achieve your goals.
 My Bible Verse for this Year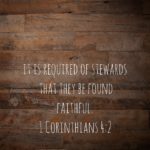 My verse for this year is "It is required of stewards that they be found faithful" (1 Corinthians 4:2). I created an image with YouVersion, it's the wallpaper on my phone. You can see the image here.
The reason I chose this verse is because God impressed on me that I need to become a better steward of my resources.
My website, book publication, and other extraneous expenses have grown as my ministry has grown. I want to be careful to use my resources to honor God. For those reasons, I've entered into some affiliate relationships and will be sharing these great resources that I have tried and recommend with my subscribers (click here to become a Subscriber). One of those products was recently promoted – Boost Your Libido training.
God also spoke to me about my faithfulness to Him in my ministry. I'm going to be totally transparent – I honestly had so little income that I wasn't tithing on it. I justified this attitude because we personally tithe my husband's income and because I was putting all my resources back into the ministry. A recent preaching series at church really convicted me that no matter how small my tithe, God can use it. So I've faithfully begun tithing my speaking income to my church.
I had already committed to tithing my book sales income to Musalaha, and will continue to do so. This organization in the Middle East works to reconcile two prickly people groups – Muslims and Jews – using the reconciliation principles in the Bible. Musalaha means reconciliation in Arabic. Some of the activities used by Musalaha include summer camps for Jewish and Muslim children, camping trips in the dessert with Muslim and Jewish young adults, and women's ministry. The principles used in this ministry mirror the principles I share in my book, Making Peace with Prickly People
.
Get Started with your Goals
Do you achieve goals consistently? I love setting and achieving goals, but this isn't something I have always done. I used to be in the 86% of all people who fail to achieve their goals. Are you part of that majority?
I would love to help you begin to find success in a practical, doable way. We each have unique personalities, and I believe any success program has to take individual differences into account. Some of us just have less energy and drive than others, but that doesn't mean we are losers!
If you're like me but would like to change things up, I've got two gifts for you.
A 30 day prayer calendar to guide you in praying for goals.
A short checklist of 8 of my best tools for productivity.
These are tried and true tools that I rely on every day. Sign up to receive them and become one of the Productive People.
Comment below and let us know what your verse is for this year.
…because U count, deb
Got a Prickly Person?
Subscribe here and receive my complimentary
Prickly People Prayer Calendar.
30 days of prayer for you, and 30 days of prayer for Prickly!