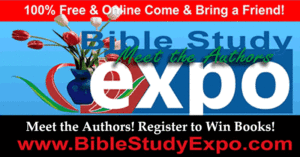 Are you like me? About 21 years ago I was on fire for God, loved Bible study, but started feeling the uncomfortable nudge from God to lead a small group myself. I had no idea where to start and how to learn the ropes. Today I want to share my best advice on how to lead a Bible study small group, and where to find one – Bible Study Expo.
My Excuses
I was way more comfortable being a student than a leader back then. There was no way I was ready to step outside my comfort zone even though I was learning a lot. I had a "who me?" attitude. But God didn't stop nudging me – is that your feeling too? He just doesn't take no for an answer sometimes!
I had lots of excuses for my Bible study leader when she asked me – again and again – to join the leadership team. There was so much to do, I had just moved from overseas, and besides I didn't even have any curtains up yet! I have to laugh when I think of all my excuses. I finally gave in and said yes to her and yes to God. Am I ever glad I did! It's been an amazing 21 years of leading all kinds of studies in all kinds of locations with all kinds of women. I've been privileged to see transformation in women, redemption from past hurts, and new life springing up.
I am so grateful for my first Bible study leader, Debbie Harvey. I didn't know this at the time, but that was the first time she ever led a study. She was scared to death, but she wanted to say Yes to God, and with the help of her friend, Ann Salmon, she plunged out of her comfort zone and started a group. That study changed my life completely because that is where I made the decision to follow Christ for the rest of my life.
Do you have excuses for God as to why you can't lead? Maybe there is someone whose life is about to be changed if only you will say Yes to God. Watch this video for my 3 excuses from back then along with my perspective after saying yes to God for 21 years.
Bible Study Expo is the Best Place to Find a Study
Are you wondering what kind of study to choose? There are so many studies, how do you find one that will meet your small group where they are? I used to spend hours in Christian bookstores, thumbing through study guides wondering which one would be best. But now I just go to the Bible Study Expo archives and listen to the authors themselves describe their studies.
We are just a few days away from the 2017 Bible Study Expo. This is an online, free expo where 12 new Bible studies are presented by their authors. Hear directly from the authors – who their intended audience is, why they wrote the book, and any special tips for leading the study. There is no better way to learn the ins and outs of a study.
Bible Study Expo is packed with lots of information in a short amount of time. To help you in keeping track of everything, I've prepared a 'cheat sheet' –  2017 Bible Study Expo Notes. Just click to download. It has a place to record notes for every author, along with her social media and website links.
Bible Study Expo is scheduled for 2-5 pm CT on Friday, March 31. The website, Bible Study Expo is where you can get more information and listen to archives from past years. Register for the Expo at the top right and you will be entered for drawings of the books. This is a great way to learn about many new studies all in one convenient spot.
Past Bible Study Expo authors included Shaunti Feldhahn, Lysa TerKeurst, Pam Farrel, Sheila Walsh, Nancy Leigh DeMoss, Jen Hatmaker, Jennifer Rothschild, Liz Curtis Higgs, and Jennie Allen. Some favorites will be featured this year, along with some of us who are newer to the Bible study genre.
My Contribution to Bible Study Expo
I've participated in Bible Study Expo for several years as a Facebook hostess, and this year I am blessed to be featured as the author of Making Peace with Prickly People: Transforming Relationships by Loving God, Self, and Others.
Here's what some of my friends said about why they need to read this book:
"I need to read this book to bring me closer to being the person God intends me to be and because I am at times a 'prickly person'." Kimberly Giles-Hill
"Always in need of encouragement on how to heal/deal with prickly relationships, as well as taking a deeper look into who I am and where I stand in the relationship as well." Kerry Krause Albertson
"I need to read this book because I tend to attract 2 kinds of people, first the ones who suck the life out of you and the second who push you to the point of being crazy. LOL" Tara Andrews Spearing
"I need to read this book because I am a prickly and have pricklies in my life!" Kristy Sterken
We try over and over to improve a relationship and yet sometimes nothing ever changes. Learn to love God's perfect personality, respect your lovable self, and transform your relationships.
Prickly People Free Resources
There are several free resources available with Making Peace with Prickly People. They can be found at PricklyPeople.com:
The Personality Key assessment
A Prickly People Prayer Calendar containing 30 days of prayer for you and 30 days of prayer for your prickly person
A free downloadable study guide. This contains leader notes that will help you set the stage at the beginning of the study, providing a safe, comfortable environment. The study guide has 8-10 questions per chapter and is written in such a way that those who don't have a lot of Bible knowledge will be able to keep up.
I also have designated a ministry in the Middle East, Musalaha, to receive 10% of the profits from my book. Musalaha means "reconciliation" in Arabic. The ministry works to bring two prickly people groups, Jewish and Muslim, into reconciliation through the teachings of Jesus. On my website is a video with more information about Musalaha. By purchasing my book you will be contributing to this very worthy cause.
All this can be found at http://pricklypeople.com.
I hope this post will whet your appetite to jump in and lead a Bible study small group. I'm so glad I finally said Yes to God. What is holding you back? Comment below and let us know your best excuse!
…because U count, deb
Got a Prickly Person?
Subscribe here and receive my complimentary
Prickly People Prayer Calendar.
30 days of prayer for you, and 30 days of prayer for Prickly!