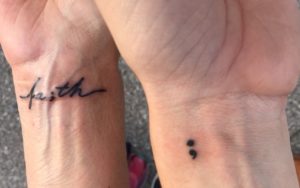 On November 1 of this year, this 62-year-old grandma marched herself into a tattoo shop and got tatted, and I'm not even a biker-chick! I've been wanting to get a semicolon tattoo for some time, and was dragging my feet. My determined daughter Robin took some initiative and encouraged me by going with me. So here's the backstory of my Project Semicolon tattoo, in support of mental health awareness and suicide prevention.
Project Semicolon – Our Stories Aren't Over Yet
Project Semicolon was started by Amy Bleuel, who wanted to honor her father after losing him to suicide. The project is a faith-based, global, non-profit movement which supports mental health awareness and suicide prevention. Project Semicolon exists to encourage, love, and inspire others. A growing number of people from all walks of life are getting semicolon tattoos. The website at www.projectsemicolon.com is currently under renovation, but you can find more information on their Facebook page.
My father also committed suicide, on April 16, 1995. Coincidentally, the Semicolon Project was founded on April 16, in the year 2013.
The thinking behind the semicolon symbol was one that resonated with me as a writer. When writing a sentence, the author chooses whether to end the sentence with a period, or to keep going with a semicolon. The two parts of the sentence, separated by the semicolon, are related to one another. But the second part provides more of the story.
As the author of my life, I can also choose to end my story, or to go on. The decision is mine, I've been given that right and responsibility by God, who created me with a free will. If I chose to go on, the two parts of my life are related, but the second part is a new beginning. A new chapter in the story is written that would not have existed before the decision to go on.
I've never suffered from depression. Throughout my life, I've been the optimistic one. My nickname in elementary school was Happy Horner, (my maiden name). I was born just after Debbie Reynolds starred in Singin' in the Rain, and my optimistic namesake provided my lifelong theme song.
However, I've lived among others who don't have the same outlook that I do. I have always felt somewhat responsible for being the one who cheers on, lifts up, and shares a smile. You, like me, may have never suffered from depression. But you may have, like me, struggled through the horrible, devastating loss of suicide. This is my story in my book, Making Peace with Prickly People.
If you are depressed or having suicidal thoughts, don't even finish reading this article. Call your local authorities (911), contact a mental health professional, or call the National Suicide Prevention Lifeline (800-273-8255).
Here are three decisions I've made because of the story of our family. I hope they are an encouragement to you.
Speak Up
Looking back, I can recognize signs that my dad was depressed. It's painful to think, if I had only spoken up. Would things have ended differently? I will never know the answer to that question. But one thing is for sure, I will always speak up now if I suspect someone I know is having suicidal thoughts.
As marriage mentors, we promise our mentees that their information is confidential. The only caveat to that promise is if we believe someone's life is in danger. Then all bets are off, and we make sure that person is safe.
Look Up
My faith in Jesus Christ is what keeps me going. I am not a counselor, and I don't pretend to understand mental illness. But the Bible has so many comforting, encouraging words. Sing beautiful hymns, not because they will cure depression, but just maybe they will lift you up for a time. By all means, seek counseling and healing, but can you also be thankful, and appreciate the myriad gifts God puts in our lives every day? Here are some verses to get you started.
"Finally, brothers and sisters, whatever is true, whatever is noble, whatever is right, whatever is pure, whatever is lovely, whatever is admirable – if anything is excellent or praiseworthy-think about such things" (Philippians 4:8).
"The Lord himself goes before you and will be with you; he will never leave you nor forsake you. Do not be afraid; do not be discouraged" (Deuteronomy 31:8).
"I waited patiently for the Lord; he turned to me and heard my cry. He lifted me out of the slimy pit, out of the mud and mire; he set my feet on a rock and gave me a firm place to stand. He put a new song in my mouth, a hymn of praise to our God" (Psalm 40:1-3).
"I have told you these things, so that in me you may have peace. In this world you will have trouble. But take heart! I have overcome the world" (John 16:33)
Praise be to the God and Father of our Lord Jesus Christ, the Father of compassion and the God of all comfort, who comforts us in all our troubles, so that we can comfort those in any trouble with the comfort we ourselves receive from God" (2 Corinthians 1:3-4).
Never, Ever Give up
For many years, it was my habit to give up when things got too hard. I didn't give up on life, but I gave up on relationships, on discipline, on projects that got boring or frustrating. "I give up" used to be my mantra. All I ended up with was a whole lot of brokenness and unfinished projects.
I love having my tattoo where I can easily read it. It's a reminder to me to never give up, to keep on going. To see the tattoo up close and hear a video message see below.
My verse for this year is Ecclesiastes 7:8, "The end of something is better than its beginning. Patience is better than pride." If I can patiently wait out my troubles, giving up on my restless pride, I will develop perseverance. If I can accept the good along with the bad, I can develop determination and grit. God has given me so much to look forward to. I hope and pray that among those blessings will be an end of depression in my family.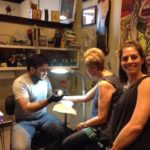 In case you're wondering, my tattoo is the one that reads, "fa;th." My daughter has the plain semicolon. My next blog post will explain why I designed it that way.
…because U count, deb
Got a Prickly Person?
Subscribe here and receive my complimentary
Prickly People Prayer Calendar.
30 days of prayer for you, and 30 days of prayer for Prickly!