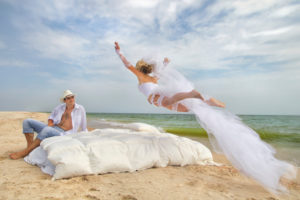 I'm going out on a limb today to blog about a topic that hugely affects married life, but – like the elephant in the room – is only reluctantly talked about. The topic is a wife's libido. For men, it's a key to a happy marriage to have sex, yet for their wives it can be the most dissatisfying aspect of their relationship. If you need to, put a paper bag over your head and hide in a closet while you read this, but for heaven's sake, read it! It's the most important marriage topic that never gets discussed. I think it's time to end that.
The Truth about Differences in Libido
My husband and I are marriage mentors. All of our couples take an assessment called Prepare-Enrich. The assessment gauges 10 or more key areas of agreement in a marriage, one of which is Sexual Relationship. We've personally shared results of this assessment with over 50 couples in the past 4 years. Most of the husbands shared they were dissatisfied with their physical relationship.
Men and women are different in many ways, and lots of research has proven that libido is one of the greatest differences we have.
WebMd weighs in with this conclusion: "Study after study shows that men's sex drives are not only stronger than womens, but much more straightforward. The sources of women's libidos, by contrast, are much harder to pin down."
And Psychology Today: "In short, pretty much every study and every measure fit the pattern that men want sex more than women. It's official: Men are hornier than women."
God's Plan for Sex in Marriage
God invented sex as a way for people to procreate, but also as a source of pleasure. He could easily have created us to propagate like plants – with bees getting all the fun. He even purposely created a certain organ in a woman's body solely for the purpose of pleasure.
Song of Solomon in the Bible is a book which is full of erotic symbolism and encouragement for a couple to enjoy each other. God intends us to enjoy sex  within marriage and avoid it outside of marriage.
Husbands have always been thrilled at the sight of their wives, beginning with the creation account in Genesis. "The Man said, 'Finally! Bone of my bone, flesh of my flesh! Name her Woman for she was made from Man. Therefore a man leaves his father and mother and embraces his wife. They become one flesh. The two of them, the Man and his Wife, were naked, but they felt no shame" (Genesis 2:23-25 MSG).
Brené Brown writes and speaks about shame. She calls it an unspoken epidemic. Listen to her Ted Talk on Shame here.
Why the Difference in Libido?
The Prepare-Enrich company gathers data about marriage from the assessments it provides. They state that happy couples tend to have high scores in both assertiveness and self-confidence. These are two areas where I see many women lacking, not just in the sexual relationship, but across the board.
Our enemy, satan, appears for the first time in the Bible only after the creation of Eve. He clearly wants to destroy marriage, the building block of God's society. Consider our culture, and you will probably agree that he is doing everything in his power to convince us to have sex outside of marriage, and everything in his power to convince us to stop having sex inside marriage.
Our culture is flip-flopped, and one of the results is dissatisfying sexual relationships inside marriage. We can only guess how our differences in the bedroom are driving divorce. By all indications, satan's wedge is working well.
The Most Important Marriage Topic that Never Gets Discussed
How can we change the disconnect between God's plan and satan's plan? Growing in self-confidence and assertiveness through an understanding of who we are as God's daughters is a process as we grow in Christian maturity. But I think more is needed.
I recently learned of a wonderful Christian course on libido from Sheila Wray Gregoire, called Boost your Libido. I follow Sheila's blog, and have guest blogged on her website. She and her husband are speakers for Family Life Ministries. Sheila courageously speaks and writes about the topic of Christian married sex.
I purchased the course myself this weekend, and finished the first lesson. WOW, this is a dynamic study. I realized that I had never "studied" libido before, and I'm actually blushing right now as I write this. But I think it's high time we stop blushing and start talking. This difference in libido in the Christian world is the best kept secret that no one talks about and almost everyone experiences.
I appreciate Sheila's approach, which lines up with brain science, as Today's Christian Woman reveals. "If you're the spouse whose libido is lacking, remember that your most powerful sexual organ is your brain; in order to feel more sexual, you first have to decide that a loving, satisfying sex life and marriage are important. Then commit to finding your untapped sexuality within."
The Boost Your Libido course contains ten 10-minute videos and modules. Each module has a fact sheet with extra information, a worksheet, and a brainstorming exercise, along with some extra resources if you want to read more. You can learn more at Boost Your Libido.
The Question We Should Ask Ourselves
"Like an apple tree among the trees of the forest is my beloved among the young men. I delight to sit in his shade, and his fruit is sweet to my taste" (Song of Solomon: 2:3 NIV). Just ask yourself, wives – is this how you honestly think about your husband? Would you like it to be?
This course will give you a fresh new way of thinking about your libido. And it's a perfect gift for your hubby!
…because U count, deb
Got a Prickly Person?
Subscribe here and receive my complimentary
Prickly People Prayer Calendar.
30 days of prayer for you, and 30 days of prayer for Prickly!