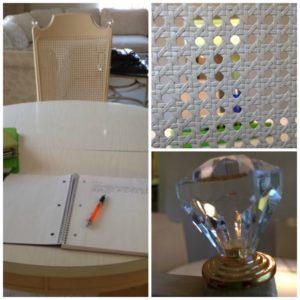 I'm sitting at Mom's kitchen table for the last time. Soon someone else will sit at this table. I just wanted to stop and reflect on my memories before saying goodbye.
Mom has had a stroke, and in order to afford her ongoing care, we had to sell her condo. That meant bagging up and giving away many things, and taking home too many boxes of precious memories we couldn't bare to let go. As I sat at the kitchen table waiting for the truck to come for her furniture, I reflected on what this table has witnessed over the years.
If Mom's kitchen table could talk, what would she tell us?
"I started out as a maple dining set. I loved my cane backed chairs. I was elegant! Helen, my owner, purchased me when the family moved to a large colonial house. It's hard to remember way back then, when the girls were all much younger. Back then, in the beginning, I was a dining room set, used only for company on special occasions.

"They would pull out all the stops. Linen table cloth, candles, china, silver, and crystal. Helen loved to make everything special. Many extended family members would be invited to sit by my side and eat wonderful home–cooked meals. I remember Uncle Bert and Aunt Stella coming one time. Uncle Bert was everyone's favorite. He was a character! He'd inevitably get out his harmonica and start playing. He was pretty good, too. He had tons of corny jokes. I often wondered if he was ever in Vaudeville? The one time I'm thinking of, Uncle Bert had a recorder. Bert went around the table, trying to interview everyone. Only nobody wanted to talk! I was chuckling the whole time.

"Sometimes I was lonely, sitting all by myself in that dining room. My cousin, the kitchen table set, she had all the fun. That's where everyone sat around, laughing and playing cards and talking for hours. She wasn't as fancy and beautiful as me, but it seemed like the people were more relaxed when they sat by her side.

"I was especially jealous when a new boyfriend was invited over. There were a lot of boyfriends in those days, those four girls were popular! Each new suitor was invited to sit at my cousin's side, the kitchen table, eat dinner, and play games. I could always tell if they were 'keepers' or not, just by the way they interacted with the family when they sat in the kitchen. I felt left out. I was missing out on all the meaty conversations, the important political discussions.

"But one day, I was surprised by a big change.

"Helen and her husband Buzz were going to move, and they were getting some new furniture. And the old kitchen table was being left behind for someone else. I got a brand new coat of off-white paint, even my cane backed chairs were painted! Helen recovered my seat cushions, and I got new finials at the tops of the chair backs. One of the sons-in-law even put fake wood-grained Formica on my top. Wow, I looked fabulous!

"In the new condo, I proudly sat in front of the bay window in the kitchen. I was transformed into a kitchen table set! I loved my new location. Every morning I had company. The babies started coming around that time. With four daughters, Helen was pretty busy being grandma to a growing collection of kids. She had a high chair that would come out of hiding every time a grandchild would come over. It was always a special day when one of the children would graduate to sitting at the table, being part of the conversation.

"Laughter, tears, memories, all were part of my involvement as the kitchen table. I was built to support the family through thick and thin. I was there when some tough conversations took place and I was there when joyous occasions were announced, like the girl's engagements. By my side hung a framed copy of the Irish Blessing. It was framed to match me!

"As the years went by, Helen moved several times. I always went with her. Finally, we wound up in a condo near her sisters. There I sat in the nook, her old faithful kitchen table. Helen still loved to have company over and cooked up a storm. She was a great cook! The condo was smaller than her former home, so she could only have a few people over at a time. But they still came, and she still made sure everything was perfect.

"She got out the linen table cloth, the china, the silver, the crystal. And she made those wonderful dishes that everyone loved so much. Chicken and homemade noodles. Roast beef and mashed potatoes with gravy. Roasted lamb. MMMMM, I can still remember the wonderful aromas and how proud I was to have all that finery sitting on top of me. Dessert was the best, most often it was homemade pie. Apple pie, peach pie, and her specialty, chocolate pie! They would sit and talk and laugh. I was in my glory!

"Eventually, Helen started to become forgetful and kind of tippy. She started falling down, and it was harder and harder for her to entertain. But that's ok, because we had our memories to make us smile. One day she took a bad spill and she couldn't come home after that.

"You know, I miss her a lot. But I'm made solidly and I know I have a lot of years left in me. I hope a nice family will take me home so I can have lots of company again, sitting around, playing cards, laughing, and eating. Ah, the good old days!"
As I sat there that day reflecting on my memories of Mom's kitchen table, I realized how important a kitchen table really is. More than any other piece of furniture, the kitchen table represents the heart of a family. This is where a family is fed, not just physical food, but emotional food as well. They are nourished in the truest sense of the word. At the kitchen table they sit face to face. All other furniture in a house requires people to sit side by side. But at the table it's face to face.
This is where relationships are formed, where they improve, and sometimes where they are injured. This is where important information is announced, where laughter and tears alike are shared. The kitchen table is where a baby officially joins the family, being able to look people in the eye because of their high chairs. Family members often sit in assigned seats at the kitchen table. So a family's hierarchy is reflected there. Kitchen tables also usually have leaves, so they can grow to accommodate more and more people. There's always room to squeeze one more in!
The Bible says of the three qualities of faith, hope, and love, the greatest is love. A kitchen table is where love is manifested and developed. At our kitchen table, we always hold hands when we pray before a meal. I bet my kitchen table is happy we do that.
…because U count, deb
Got a Prickly Person?
Subscribe here and receive my complimentary
Prickly People Prayer Calendar.
30 days of prayer for you, and 30 days of prayer for Prickly!