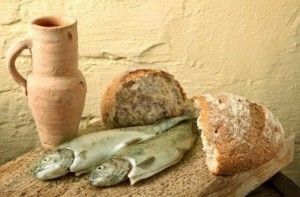 I recently attended the fabulous Epcot International Food & Wine Festival in Orlando, Florida with my sister in law Val. As we worked our way through our culinary experience, playing the part of "foodies", I began to see some parallels to our spiritual experience. Just like we can be epicurean foodies, we can become Jesus Foodies.
I love Epcot, especially the section where the international pavilions are located. All of Disney is a magical place, but for me Epcot beats every other park. I also love food, there is basically nothing I won't try  – at least once.
A foodie is defined as a person with a particular interest in food – synonyms for foodie include gourmet, epicure, gastronome, or gourmand. A Jesus foodie is a person with a particular interest in Jesus.
Here's a look at the three steps to becoming a foodie.
Step 1: Due Diligence
Before we got to Orlando, Val and I took care of due diligence. We studied the layout of Epcot and located a list of every temporary food booth for the event. Besides the 11 permanent country pavilions, the festival added over 30 other temporary booths with additional food from more countries. We studied the offerings from each country we were interested in visiting.
We learned about Berbere-style beef tenderloin tips with onions, jalapenos, tomato and pap from Africa. We considered Belgian waffles with warm chocolate ganache and whipped cream. We studied the Canadian cheddar cheese soup and the French croissant aux escargots.
There was a lot to pick from, and we spent time before our trip as well as once we arrived in Orlando to complete our due diligence.
Becoming a Jesus foodie starts the same way. Due diligence is doing your homework, investigating something in an attempt to provide enough information to make a decision.
Many people start their spiritual due diligence by going to church or reading books or listening to speakers. As with any due diligence project, more information is good. There are Christian look-alike religions that can sound right until they are compared to the real thing.
If you are interested in knowing more about becoming a Christian, it's good to visit several churches, read different authors, or watch a variety of different speakers. Pray as you do due diligence. Ask God to show you where you belong.
To get started here's a list of well-known and excellent Christian women speakers and teachers. They each have authored books and Bible studies, and each has a full speaking schedule as well. Some are also bloggers. Each website ministers to women in a variety of ways.
When choosing a church, it's also a good idea to visit a variety of different churches. Most will have websites; visiting them can provide lots of information such as the statement of faith, sometimes called "What we believe."  The location, size, and different programs offered will also shed light on a church. Are you welcomed as a visitor, do you feel the people are friendly? Does the music and the message speak to you? Ask people you know where they go to church. Sometimes just the way a person talks about their church can be a ringing endorsement or a turnoff.
Step 2: Decision
Once the due diligence is over, its decision making time. Val and I had some ideas for which countries we didn't want to miss, and thought we'd play it by ear for the rest. The day turned out sunny and very warm. As we made our way around the big lake in the center of Epcot, we were excited to begin our foodie journey.
Our decisions were made based on our research, and also on the look of the booth and the food itself. Sometimes we saw a photo of the food, and sometimes we judged the quality of the food by the length of the line of people waiting for it. No one forced us to choose one type of food over another. We didn't always pick the same food. Each of us made our own decisions.
When a decision was made, we confirmed that by getting in line and paying for the food. Yum – now the fun begins!
A decision to become a Jesus foodie is a one-time decision. Hopefully the decision is made based on some personal due diligence. Some people kind of make the decision by default. Maybe they were baptized as a child into a particular denomination and their whole family attends that type of church.
I don't recommend a default decision. If you haven't consciously made a decision on your own, you are giving up your God-given free will and basing all of eternity on someone else's decision. Whoever it was who started the tradition in your family may not even be living anymore. Doesn't it make sense to make a well-thought out choice?
A decision for Christ is really an internal decision. But we usually formalize it by saying a prayer. Sometimes we have a person helping us to due diligence, and they will guide us through a prayer. Sometimes we don't have anyone in particular. That was my path. When I was ready to make my decision, I was alone and just spoke to God about it.
A decision for Christ really means I am ready to become a person who has a particular interest in Jesus. Just like an epicurean foodie, I am deciding to spend time and effort in learning more about my interest. Being a foodie is actually a hobby. Being a spiritual foodie requires the effort you might put into a hobby.
We need food to survive. A decision for Christ means I need spiritual food from God as if my life depends on it.
Step 3: Dig In
Once the decision was made in Epcot and we paid our fee, we held our hands out and received the small plate of aromatic food. Ahhh! The smells were delicious. The tastes sublime. The interesting textures and colors made the food beautiful to behold. We took our forks, lifted the food to our mouths and carefully chewed and swallowed.
How ridiculous would it be if we had gone through our due diligence, made our decision about the food but stopped short of actually eating it? What would happen if we just looked at the food and thought about it?
Honestly I don't know anyone who would do that. After spending so much time and money preparing to eat the delectable morsels, who in their right mind would not eat it? If anyone made a habit of that practice, they would surely starve.
We find that many people do just that with regard to spiritual food. They study Jesus, they listen to speakers and read books about Him. They may even "pray the prayer" and make a decision about Him. But they stop there. They are spiritually starving.
What holds so many people back from grabbing some utensils and digging in? There are wonderful flavors and nutrients and textures to gourmet food. We epicurean foodies would never want to miss the benefits of actually eating the food.
Similarly there are wonderful benefits from spiritual food. Love, forgiveness, peace, purpose and power are just a few which come to mind. Who would want to miss out on those?
For more information about becoming a Jesus foodie, download my free resource No Greater Love. Then go find a knife and fork and dig in!
…because U count, deb
Got a Prickly Person?
Subscribe here and receive my complimentary
Prickly People Prayer Calendar.
30 days of prayer for you, and 30 days of prayer for Prickly!