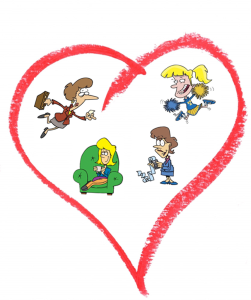 Fall is when women's ministry kicks up in churches. Summer's over, and it's time to get busy planning ministry events, bible studies, and other methods to meet the needs of Christian women. If you're part of a women's ministry team, have you ever considered how personalities impact your work? Read on for a new twist – women's ministry: personality wise. This is an excerpt of a new, free eBook I have written just for you. Contact me for your copy today.
Background in Women's Ministry
If you are a leader in women's ministry, I know where you're coming from! I served in women's ministry in many capacities in the past twenty years. I've been a small group leader for many bible studies, a leader in my church and co-founder and leader in a non-denominational outreach ministry to women. I've mentored many women, and co-mentor married couples at my church with my husband.
I've served on the other end as well, being hired by women's ministry leaders to lead workshops, bring devotionals and teach at weekend retreats. I co-founded a local Christian speaker's network for the purpose of praying, sharing and referring speakers. (Visit Michigan Christian Women Speakers  for more information).
Since beginning my journey as a Christ follower in 1995, I've ministered to women in many capacities. I've also been studying, writing, and speaking about personalities since 2006.
My free eBook, Women's Ministry: Personality Wise, contains the following topics. Contact me for your copy today.
The Vision for Women's Ministry
Women's Ministry: Personality Wise
Involve Your Team
Include Your Guests
Invite the Community
Include your Guests
I will share here a short excerpt of the chapter on how to successfully include your guests based on their personality preferences.
Each of us is created by God with personality gifts and preferences that determine how we view the world and how we interact with our environment. Including our guests in women's ministry can be challenging when we consider how our differences play out in our needs as women.
At this point you have a women's ministry team, you are prayed up and discipling your team. You are anxious to plan some events, begin some bible studies, and maybe plan a retreat. You've got a motley crew of women at your church. How do you satisfy their needs. Do you even know what their needs are?
This is a place where knowing something about personalities may help you. Typically, a large percentage of women will be quieter, serving others with a joyful heart, and not so likely to ask for help or express their needs. How do you plan events that will be loud and flashy enough for the outgoing women but not scare the quieter types away?
Here are some questions to think about:
You have a neighbor who is very outgoing. She is always talking, loves everyone. She is not a Christian.  What kinds of things could you invite her to, do with her; that might draw her to Christ?
You have a relative who is a successful business leader. She prayed to receive Christ years ago, but doesn't seem to be growing.  She attends a church, but doesn't like it.  She said she would do a Bible study with you.  What type would you pick, who else would you invite, how would you organize it?
You have a friend who is very reserved and has just gone through some intense family turmoil. They are one of those families where everything that could go wrong seems to go wrong.  You aren't sure if she is a Christian or not, she holds everything inside and doesn't reveal a lot about herself.  How can you reach her, what ideas do you have to touch her life with the peace of Christ?
Your co-worker is very conservative and orderly. You love your church; a loud, rock music playing seeker church.  People stand and wave their hands when they sing.  Your co-worker tried it one time, and that was it! Now she won't answer your phone calls. How could you encourage her to grow?
Each personality is communicating to you in many different ways.  Each personality has a different view of God, different views of worship and different avenues of spiritual growth that work best for them.  We are not one-size-fits-all in God's kingdom.
Becoming Personality Wise
Of course, you know you can't please everyone every time. Think of the ministry as a whole like a menu. Some will choose to only join a bible study. Others will join everything you offer and want to serve as well. Meet each woman where she is, as she is. Here is a list that may help you understand the spiritual needs of the personality types.
The outgoing woman loves the group atmosphere of a bible study, but may struggle to get homework done. They tend to get discouraged and may drop out. Studies with little or no homework may be best. They need to be encouraged that they don't have to read the bible through every year, and if they find a non-traditional way of spending time in prayer, that's good. She may have trouble sticking with a reading plan, but might enjoy listening to the audio bible. And she may prefer to get her theology from music. Christian fiction may be her preferred reading material, consider a book club along with a bible study. Too often we have a prescribed way to grow spiritually that may not fit the free-wheeling extrovert. They can quickly get discouraged and give up even trying because they can never study as much as the other types. This personality type needs accountability, and having a mentor who is not like her, personality-wise is a good idea. The outgoing woman will usually love corporate worship and music and dance.
The quiet personality type usually loves to study and ponder and pray. Ask them to sit in a chair and read and think; that's heaven! They love to journal, and don't like to be in a hurry. They may resist praise and worship, but might love being part of the prayer team. In bible studies, they will usually do the homework, but leaders need to make sure they get a chance to answer in the small group. They will rarely jump in and offer their answers. And they need time to ponder answers, so allow a few seconds of quiet after posing a question. Try to communicate this plan at the beginning of a bible study so the more talkative members know to hold back until everyone has had a chance to share.
The organized, perfectionistic personality type is the perfect student. They love the colored pencils and marking up scripture. They love reading through the bible in a year. They love teaching and following a plan. They love memorizing scripture. They will usually offer their opinions in bible study. In large events and retreats, they may not want to participate. Don't make the mistake of calling on them to be on stage playing a silly game! Make sure there are options for quieter women so they feel included too. A craft might be a great alternative to Zumba at a retreat, for instance.
The natural leader personality type doesn't usually enjoy bible studies. They are in a hurry and get frustrated when the talkers get going! They operate better doing a study with one person who is like them, personality-wise. This personality type loves to work, and they feel more useful when there's something to do. They may enjoy a discussion group of a few women who walk in the mornings as they talk. Keep them moving and you keep them happy! Service projects are great ways for them to plug in. They prefer short studies, not long ones, but they usually prefer deeper studies and devotionals. They may not prefer fluffy women's studies. They love setting spiritual goals and learning about their spiritual gifts. They love bible software and teaching.
Try to take the needs of each personality type into consideration when planning events. Let them know there are equally good options for everyone in bible study and prayer. You won't be able to please everyone all the time, but your guests will appreciate that your team was thoughtful enough to consider their needs.
I hope this short excerpt was helpful to you. For a complete copy of my free eBook, Women's Ministry: Personality Wise, contact me.
…because U count, deb
Got a Prickly Person?
Subscribe here and receive my complimentary
Prickly People Prayer Calendar.
30 days of prayer for you, and 30 days of prayer for Prickly!