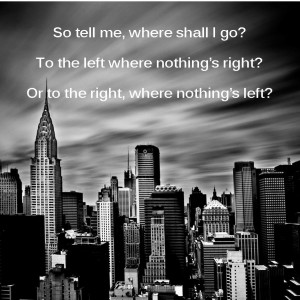 Have you ever been there? Feeling  dejected and depressed – and there's no path that seems any better? God understands how we get there and how he can get us out. Here are 3 steps to climb up when you're down in the dumps.
This post is based on Psalm 42, which begins with the famous image, "As the deer pants for streams of water, so my soul pants for you, my God".  This Psalm is known as one full of solid advice for how to heal depression. It describes in some detail how the descent into depression goes, then provides what I see as 3 steps to help us climb up out of that pit.
Descending down in the dumps
The catalyst for a downward spiral can be almost anything. The cause could be a physical disease, a relationship problem, shocking circumstances, or just life in general. Regardless of the cause, the effect is like a bubble bursting: shock and awe. Psalm 42 lists several symptoms of depression once the bubble bursts.
"My tears have been my food day and night". We get stuck in sadness. We experience physical symptoms of disturbed sleep (either less or more than normal), digestive problems, headaches, eye disturbances, extreme changes in appetite.
"These things I remember…" We dwell on what we've lost, we mourn the joy or the peace we once had. We bemoan the way it was.
"They say to me, where is your God?" Well-meaning people may question our faith or trust in God. In so doing, they encourage me to focus on what I've lost.
"Why?" We ask endless, unanswerable questions. Why am I in despair? Why am I disturbed? Why has God abandoned me?
Before you know it we're up to our eyeballs in questions, and we're stuck, prevented from moving forward.
Step 1 – Remember Yesterday
Step one in climbing out of the pit is to remember differently. Instead of remembering all we've lost, remember what we've gained in the past.
"Therefore, I will remember you from the land of the Jordan, the heights of Hermon – from Mount Mizar." Verse 6 helps us to understand just what we should remember.
The land of the Jordan was a gift from God. It was well watered everywhere, lush and green. It was compared to the Garden of Eden.
The heights of Hermon were one of the boundaries of a rich land God gave the Israelites. Everything they needed was provided for them there.
Start a gratitude journal. Write down all the ways God has blessed you in the past. Remember how your prayers were answered before. Think of what you have now that you can thank him for. This process will be hard at first, your mind will want to go back down the stairs to the pit.
Stick your ground, clamber up that step, and refuse to back down. Cling to the positive memories.
Step 2 – Tell it Like it is Today
It's ok to be real with God. Tell him like it is. The Psalms are full of heart-felt cries to God. In Psalm 42 the writer tells God:
"My soul pants for you God."
"Why have you forgotten me?"
"Why must I go about mourning, oppressed by the enemy? My bones suffer mortal agony as my foes taunt me."
Most of all, God wants us to be in a real relationship with him. He would rather have us hotly angry with him than lukewarm and lackadaisical.
Try writing out a letter to God. Be honest with him. Get it off your chest.
Step 3 – Look up to Tomorrow
The final step up is to look to the future with God. Because we know God has been faithful in the past, and we know he is unchangeable, we know he will be faithful in the future. We can acknowledge our pain today, but refuse to dwell on that pain.
Instead we chose to dwell on the future with God.
The psalmist writes:
"Put your hope in God, for I will yet praise him, my Savior and my God."
"By day the Lord directs his love, at night his song is with me – a prayer to the God of my life."
Do you know how to find promises of God? The bible is full of them, many of them future events and blessings for his people. Here's a website of 365 Promises of God. Subscribe to it, and you will receive a daily email with a promise for a year.
Focus on the future with God, backed by evidence of his past blessings. Bank on it.
Meet God at the top of the staircase
Psalm 42 contains many reassurances about God's part in this process. When we're faithful to obediently follow his word and go through the process of biblical healing, God meets us at the top of the staircase, rolls up his sleeves and goes to work.
He helps me in verse 5
He refreshes me in verse 7
He directs his love to me in verse 8
He will be with me in the night in verse 8
He helps to relieve my symptoms in verse 11
He will go to bat as my God in verse 11
We have pharmaceuticals to help us overcome depression, and they have been really life-saving to some people. But I think a reliance on them has encouraged us to think this way:
I feel depressed.
I will take pills to feel better.
Then I will praise God.
Psalm 42 clearly leads us to understand God's Rx for depression:
I feel depressed.
I will obediently praise God.
Then I will feel better.
If you are taking anti-depressants, please do not stop. This blog post is not a medical journal. But along with the pills, can you obediently follow God's Rx for depression?
What do you have to lose?
…because U count, deb
Got a Prickly Person?
Subscribe here and receive my complimentary
Prickly People Prayer Calendar.
30 days of prayer for you, and 30 days of prayer for Prickly!