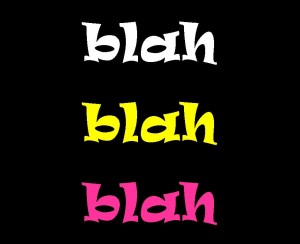 Are you a motor-mouth with God? Do you hog the conversation when you pray like I used to do? Here are some things I've learned about the art of listening prayer.
God's motor mouth
When I was in sixth grade I suddenly changed from being a "teacher's pet" kind of kid. I don't know if it was puberty or what, but I was transformed overnight into a sassy motor mouth. I talked, I talked back, I refused to listen to my teacher. That year my teacher's name was Miss Nagy. I think I might be on her list of all time worst students. My desk was placed in the back of the room most days, next to the drinking fountain. That's where the bad kids sat. And the motor-mouths.
I was given an assignment to write 100 times, "I will not talk in class." As I sat there, resentful that I was cut off in mid-sentence, I decided to get busy writing. But instead of the sentence imposed on me, I wrote 100 times, "I hate Miss Nagy."
She was not impressed.
I've never been sassy with God…well almost never. But I have spent a long time talking endlessly to Him. I keep a list in a notebook of prayer requests. I give God all kinds of advice about how to solve the problems of the people I pray for.
Please heal every cell of bacteria in the wound (as if God would miss one of the cells)
Please send someone her way to encourage her by being a friend (as if God doesn't know how to encourage anyone)
Please give the doctors wisdom when they do the surgery (as if God needs to know that)
It's as if God is sitting there in heaven thanking His lucky stars that he has a prayer warrior like Deb, who wisely gives him step-by-step instructions on how to accomplish his work. My goodness, do I listen to myself? I go on and on, never pausing to take a breath and let God in on the conversation. Sometimes I ask God questions, like how to solve a problem or how to reach someone I'm struggling with.
But I don't stop talking long enough to hear the answer!
Biblical instructions on Listening Prayer
God gives us plenty of passages on listening prayer. Each one of these could be a blog post. God's word is so rich and meaningful. Try meditating on one of these once a day for 2 weeks. Journal your thoughts, and spend some time quietly listening.
"Blessed rather are those who hear the word of God and obey it" (Luke 11:28).
"Call to me and I will answer you and tell you great and unsearchable things you do not know" (Jeremiah 33:3).
"Whoever gives heed to instruction prospers" (Proverbs 16:20).
"Here I am! I stand at the door and knock. If anyone hears my voice and opens the door, I will come in and eat with that person, and they with me" (Revelation 3:20).
"If you do not listen, and if you do not resolve to honor my name," says the Lord Almighty, "I will send a curse on you, and I will curse your blessings" (Malachi 2:2).
"Jesus answered, "It is written: 'Man shall not live on bread alone, but on every word that comes from the mouth of God'" (Matthew 4:4).
"Be still, and know that I am God" (Psalm 46:10).
"The Lord will fight for you, and you have only to be silent" (Exodus 14:14).
"Be still before the Lord and wait patiently for him" (Psalm 37:7).
"Teach me, and I will be silent; make me understand how I have gone astray" (Job 6:24).
"I will take my stand at my watch-post and station myself on the tower, and look out to see what he will say to me, and what I will answer concerning my complaint" (Habakkuk 2:1).
"My sheep listen to my voice; I know them, and they follow me" (John 10:27).
"I sought the Lord, and he answered me" (Psalm 34:4).
"And after the fire the sound of a low whisper. And when Elijah heard it, he wrapped his face in his cloak and went out and stood at the entrance of the cave. And behold, there came a voice to him and said, "What are you doing here, Elijah?"" (1 Kings 19:12b-13).
Christians and listening prayer
Bill Hybels and Charles Stanley are among many other notable Christians who have credited listening prayer with major revivals and changed lives.
A woman named Mary Geegh was a missionary in India for 38 years and then returned to Michigan where she passed away at the age of 100. She has a small book that has become a classic about listening prayer, called "God Guides."
In the book there are many stories of specific questions Mary asked God and how he answered in amazing ways.
Mary makes a point to instruct us on how to go about listening prayer. There are only four voices that can speak to us.
Our own voice
The voice of other people
Satan's voice
God's voice
To be sure you only hear God's voice, she provides a simple prayer based on scripture to ask for wisdom, and to ask God to silence all other voices. Here are the scriptures she lists:
"If any of you lacks wisdom, he should ask God, who gives generously to all without finding fault, and it will be given to him" (James 1:5).
"Then Jesus came to them and said, 'All authority in Heaven and on earth has been given to Me'" (Matthew 28:18).
"I have given you authority to trample on snakes and scorpions and to overcome all the power of the enemy; nothing will harm you. However, do not rejoice that the spirits submit to you, but rejoice that your names are written in Heaven" (Luke 10:19-20).
"We demolish arguments and every pretension that sets itself up against the knowledge of God, and we take captive every thought to make it obedient to Christ" (2 Corinthians 10:5).
To purchase a copy of her book, visit the website Pray America.
What does God's voice sound like?
To some, God's voice is the same as God's word – the bible. But I think God will speak to us directly if we ask him to. The scriptures don't always apply exactly to us, and God can give us specific instructions through his Holy Spirit.
For me, God's voice is sometimes like a strong impression, or like I heard something without my ears, if that makes any sense. Sometimes I have a visual impression.  I'm still in the process of learning how to listen to God, but the process has taught me to slow down and stop jabbering.
Practical tips on how to hear God's voice
So, to listen to God, we need to be quiet and listen, right? Easy to say! It's easy to fall asleep, to get restless, to let our minds wander. And minutes later we give up, thinking we can never develop this discipline. But don't give up so easy. Keep at it, and try some of the following tips. This discipline is really worth it, but it does require some work to get it right. Be patient with yourself, God will love that you are trying.
Remember that God only speaks to us in the present, he is not going to speak to us in the past or in the future; at least not today he isn't. Yesterday he wanted to speak to you and tomorrow he will be ready to speak to you. But today you must "be in the present" to hear him.
If my mind wanders into the future (fear, worry) or into the past (guilt, anger, shame, etc.) I won't "be in the present." In order to hear God today I must remain rooted in today, the here and now. And that's a matter of training my mind to stay here. Believe me, my mind is apt to go anywhere at a moment's notice.
SQUIRREL!!!
If you can employ your senses of taste, touch, hearing, sight or smell, that helps you stay rooted in the present.
Taste – if you drink coffee or tea in the morning when you pray, imagine you are having coffee with Jesus.
Touch – settle yourself in the chair, or use some other posture of prayer like kneeling or standing with arms up or a yoga position. Feel the texture of the fabric or floor, be aware of your body position.
Hearing – I like to turn on a sound app to help me focus. I love the sound of a river or a crackling fire. The sounds will help you stay in the present. In the warm weather I love to open my window in the early morning and hear the birds sing.
Sight – Do you have a beautiful painting or photo of nature near you? Sometimes looking out my window in the summer at the trees helps me. Be careful not to get distracted by the cars going by or the snow that need shoveling! Sometimes I just have to close my eyes; all I can see is more jobs that need to be done with them open.
Smell – use a nice candle or your favorite essential oil to keep you grounded in the present.
Whatever tool works for you, use that. If you employ your senses, it's easier to be present. And that's where we hear God, in the present!
…because U count, deb
Got a Prickly Person?
Subscribe here and receive my complimentary
Prickly People Prayer Calendar.
30 days of prayer for you, and 30 days of prayer for Prickly!