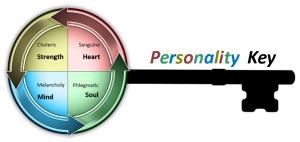 Some Christians don't consider the study of personality to be biblical. They say there is no reference to personalities in the bible, and therefore we shouldn't be involved with it. Are they correct? I believe the bible does support the study of personalities, or rather personality; the wonderful, perfect personality of Jesus.
Personality study and the Barnum Effect
The handbills were everywhere around town. Residents of New York City in 1835 eagerly snatched up the brightly colored papers and read, "Unquestionably the most astonishing and interesting curiosity in the world!" They rushed to the tent to peer at Joice Heth, a woman who was purported to be 161 years old and the former nurse of President George Washington. P.T Barnum, then only 25 years old, grinned as he raked in about $1,500 per week. Not bad for a $1,000 investment.
In his early life P.T. Barnum displayed showmanship and salesmanship that would make his name world famous. At the age of 12 he began his career selling lottery tickets. It was clear from  the very beginning that there was something about P.T. Barnum that enabled him to sell anything to anyone. He was an influencer, personality-wise.
Some conservative Christians consider personality testing to be a cult "that celebrates the superficial over the substantive, the static over the dynamic, the standard and average over the distinctive and unique." This quote comes from an article that goes on to compare the gullibility of people for personality assessments to the "Barnum Effect." When a person believes a generalized statement specifically applies to themselves, we call that the "Barnum Effect." This effect is utilized by tarot card readers, psychics and palm readers. No wonder there's push back from Christians!
But doesn't the story of P.T. Barnum himself lend credence to the idea that we are born with the seeds of unique personality gifts, and if we discover and utilize those inborn gifts we will accomplish what we were designed to achieve? How do we wrap our hands around the study of personality as Christians?
Christian leaders support the study of personality
Oswald Chambers mentioned personality many times in his renowned devotional, My Utmost for His Highest: Value Edition
.
"Personality is that peculiar, incalculable thing that is meant when we speak of ourselves as distinct from everyone else."
Many books have been written by respected Christians about personality theory, or temperament. Tim La Haye and Florence Littauer are among them (Florence personally trained me in understanding personalities). John Eldredge wrote a great book on the personality of Christ, Beautiful Outlaw: Experiencing the Playful, Disruptive, Extravagant Personality of Jesus
.
Quick History of Personality Theory
The root of personality theory goes back to ancient times. The originator is said to be Hippocrates, a Greek doctor born in 460 B.C. and known to this day as the "father of modern medicine." Hippocrates believed there were four basic personality styles and he gave them Greek names. In our English language those designations are "choleric," "sanguine," "phlegmatic," and "melancholy." Many researchers have confirmed and further developed his findings, and most researchers believe there are indeed four styles. Many of these researchers have given the types different names.
The Wiley Everything D.i.S.C. personality assessments are well-known assessments used primarily in business, although the original assessment had a biblical version. These are the assessments I use for business coaching. Each of the four letters, DiSC designates a type:
D for Dominant or choleric
i for Influential or sanguine
S for Steady or phlegmatic
C for Conscientious or melancholy
The terms choleric, sanguine, phlegmatic, and melancholy are found in the languages of virtually every developed nation. These four words are also most often googled when researching personalities. They are truly the closest thing to a standard for personality designations we have today.
Biblical personality theory
Although Hippocrates is said to be the originator of personality theory, I believe there is another author who wrote much earlier about a four-fold personality. This writer penned some amazing words between 220 and 370 years before Hippocrates was born. These incredible words are found in the Old Testament book of Isaiah.
"For to us a child is born, to us a son is given, and the government will be on his shoulders. And he will be called Wonderful Counselor, Mighty God, Everlasting Father, Prince of Peace" (Isaiah 9:6 NIV).
It's tantalizing to wonder: did Hippocrates read the ancient scriptures? He was a learned man, certainly not a Jew, but a worldly Greek. But might he have read this passage; might this have provided the seeds of "his" personality theory? Could it be possible the description of the coming Messiah, the one Perfect Man, might provide some clues about the personality of imperfect man?
The Isaiah passage illustrates the four-fold personality of Jesus, which is not like the personality of any other person ever born.
"The Son is the radiance of God's glory and the exact representation of his being" (Hebrews 1:3).
"The Son is the image of the invisible God, the firstborn over all creation" (Colossians 1:15
Isaiah does present personality theory, as it applies to the perfect personality: Jesus Christ. Jesus is the exact replica of the nature or personality of God. When we know Christ, we know God. Scripture goes on to show us many details about the personality of Christ, most especially in the four gospels. But that's for another blog post.
So the bible gives evidence of Christ's personality, but is there a reference in the bible about the personality of man?
The New Testament also provides a peek into a possible four-fold personality of man with the Greatest Commandment: "Love the Lord your God with all your heart and with all your soul and with all your mind and with all your strength" (Mark 12:30 NIV).
This commandment is addressed to people, who are to love God in a four-fold way.
Emotionally
Philosophically
Intellectually
Productively
The Bible and personality: why it matters
Our role as Christians is to "grow up in all aspects into Him who is the head, even Christ" (Ephesians 4:15, emphasis mine). If God gave us a four-fold picture of the personality of Christ, and we are to grow up into Him, the study of personality matters a lot.
If we have personalities, as the Greatest Commandment suggests, and our goal is to love God in all four aspects, the study of personalities becomes essential for Christian growth.
Understanding our own personality and the personality of Christ provides a road map on the journey to becoming mature Christians, like Christ.
This post is an excerpt from my new book, currently under construction. I will be exploring how to love God with all your heart, soul, mind and strength. And how to love your neighbor as yourself. The two Greatest Commandments, number 1 and 2 on our bucket lists, is really all you need to know to get through life.
To get started on your journey, you can take my free personality assessment by clicking Personality Key. Once the assessment is completed you will receive a free report to help you understand your personality better. My quarterly newsletter will keep you up to date with the release of my book.
…because U count, deb
Got a Prickly Person?
Subscribe here and receive my complimentary
Prickly People Prayer Calendar.
30 days of prayer for you, and 30 days of prayer for Prickly!