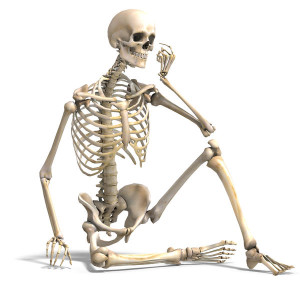 Reba McIntire's philosophy goes like this: to thrive in life you need 3 bones: a wishbone, a backbone and a funny bone. I think God would agree. These are the same 3 bones needed to thrive spiritually.
Wishbone
A wishbone is a forked bone located in a chicken. Popular custom has it that if two people each grasp one end of the bone from a cooked chicken and pull, the one with the larger end will get a wish.
In God's economy, it's not necessary to kill a chicken or wrestle with someone else to win a wish. God's hope is free for everyone.  There are lots of things to hope for in life: a good job, a happy life, well-adjusted children, healthy retirement. None of these things is guaranteed. To hope for them is just about as effective as tearing a chicken bone apart.
God gives us rock-solid truths that we can place our hopes on, bank on, and count on. We will never be ashamed or let down by hoping in God's promises.
Here's a list of God's hope-filled promises:
"Of the increase of His government and peace there will be no end" (Isaiah 9:7).
"The earth will be full of the knowledge of the Lord as the waters cover the sea" (Isaiah 11:9).
"The God of Heaven will set up a kingdom which shall never be destroyed" (Daniel 2:44).
"The Lord your God in your midst, the Mighty One, will save; He will rejoice over you with gladness, He will quiet you with His love, He will rejoice over you with singing" (Zephaniah 3:17).
"Eye has not seen, nor ear heard, nor have entered into the heart of man the things which God has prepared for those who love Him" (1 Corinthians 2:9).
"And God will wipe away every tear from their eyes; there shall be no more death, nor sorrow, nor crying. There shall be no more pain" (Revelation 21:4).
I've never wished for any of those things with a slimy chicken bone in my hand. How much better to hold out, trust, and wait for the God of hope.
Backbone
There are many philosophies about self-confidence and our "inner voice." We're told to listen to our inner voice and believe it is wise.  That will give us strength or backbone.
I don't know about you, but my inner voice has told me many cockamamie things! Especially in the middle of the night. Have you ever had that experience? Sleepless nights are when the crazy thoughts pop up. At the time we think this new idea is brilliant. But in the light of day we wonder if someone slipped us a drug the night before. What was I thinking? That's a dumb idea!
As Christians, our inner voice can be helpful, when it's our God-given conscience warning us to stay away from danger. But mostly our wisdom and confidence must come from God. On our own we are most likely to mess things up. Isn't that what happened to Adam and Eve?
The bible has lots to say about gaining wisdom and the way wisdom strengthens us to face the challenges in our lives, or gives us backbone.
"The fear of the Lord is the beginning of wisdom" (Psalm 111:10).
"Do not be wise in your own eyes, fear the Lord and shun evil" (Proverbs 3:7).
"If any of you lacks wisdom, you should ask God, who gives generously to all without finding fault, and it will be given to you" (James 1:5).
"The wisdom that comes from heaven is first of all pure; then peace-loving, considerate, submissive, full of mercy and good fruit, impartial and sincere" (James 3:17).
The Creator of the universe surely knows how to strengthen my backbone. I think I'll stick with Him.
Funny Bone
Laughter helps relieve stress and lifts up our mood. Just the act of moving facial muscles into a smile can change the production of feel-good hormones! God gave us a funny bone to help us be healthy. Isn't that amazing? He even tells us in the bible, "A joyful heart is good medicine."
Web MD agrees. In their article "Give Your Body a Boost – With Laughter" they list the following health benefits of laughter.
One minute of laughter increases blood pressure and pulse equal to 10 minutes on a rowing machine.
Laughter is thought to raise the level of infection-fighting antibodies and boost levels of immune cells.
Laughter lowers blood sugar levels.
One study indicated that ten minutes of laughter could provide two hours of pain-free sleep.
If laughter is healthful, what about joy?
It isn't always easy to laugh when we are in the middle of a stressful or painful situation. Laughter has to do with outside circumstances. But God helps us to develop deep-seated joy that sticks around when the chuckles are gone.
God's joy springs up inside us, and doesn't necessarily have to do with circumstances. Here are some bible verses to explain God's joy.
"You will be like a well-watered garden, like a spring whose waters never fail" (Isaiah 58:11).
"And our heart is glad in him, because we trust in his holy name" (Psalm 33:21).
"You make known to me the path of life; in your presence there is fullness of joy; at your right hand are pleasures forevermore" (Psalm 16:11).
"For I know the plans I have for you, declares the Lord, plans for welfare and not for evil, to give you a future and a hope" (Jeremiah 29:11).
True, life-sustaining joy takes time to develop. I recommend Ann Voskamp's book, One Thousand Gifts: A Dare to Live Fully Right Where You Are
. She explores how thankfulness produces joy. Her study guide and accompanying DVD are inspiring.
Turns out, Reba was right. We do need 3 bones to thrive in life: a wishbone, a backbone and a funny bone. What's the state of yours?
…because U count, deb
Got a Prickly Person?
Subscribe here and receive my complimentary
Prickly People Prayer Calendar.
30 days of prayer for you, and 30 days of prayer for Prickly!