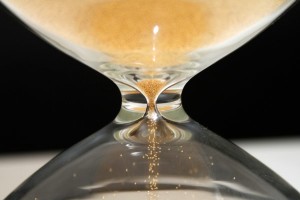 Ann Voskamp wrote, "God gives us time. But who has time for God?" She plays with words like a child plays, for pure enjoyment. Who has time for God? Who has time? Time flies, and the older I get the faster it seems to skip over the calendar. This year marks an important milestone for me, one I wanted to share with you.
 The beginning of the story
Twenty years ago this winter my life began again. I made a lifelong commitment to follow Jesus. I've never looked back. Family tragedy exploded at virtually the same moment and I found myself rocketing from the best day in my life to the worst. Just weeks after my decision to follow Jesus my father took his life.
For some reason known only to God, the tragedy didn't cause me to run away from my new found Friend. Instead, I ran right into His arms. I am so grateful to God for moving in my life in such a powerful way. He knew that I was about to lose my earthly daddy. He made sure I would have a heavenly daddy waiting with arms wide.
My experiences launched me into intense prayer, bible study, and spiritual growth. It was as if I was on the fast track to Christianity. I was starving for the deep truths of Scripture, ravenous for heavenly wisdom, aching and longing to make meaning out of my life. I found it, in buckets.
One painful thought for me was the number of years I had wasted living for myself and not for God. I was 40 years old at the time. I courageously asked God for 40 more years. I told Him I would dedicate every day of those 40 years to Him.
Have you ever made a decision to follow Jesus? What milestones have you experienced in your life? Try writing them down and reflecting on how those milestones changed your life.
 Half done
This year I celebrated my 60th birthday. Twenty years into my brave claim. I realized with a shock that my 40 years is half done already! Time flies. Wow.
I can look back at the past 20 years and wonder what I did with that time that so quickly vaporized.
I finished raising my kids, both gifts from God. I became a grandma, twice.
We went through a long growth period in our marriage, transforming it into a God-centered union. We now mentor couples at our church.
I served in a variety of capacities in church, bible study, and other ministries.
I became a Personality Trainer, began speaking publicly to Christian groups, and received training in public speaking.
I launched my blog and website. I published my first Kindle book. Still working on the print edition.
I was trained to facilitate the DiSC assessment and started helping people set goals.
I wrote my first bible study and test drove it with some brave women.
I look at that list and still wonder where the time went. Of course, there's a lot that's not on the list. Clipping toenails, keeping house, visiting family, taking the dog to the vet. That kind of thing.
We all have a sense that life is too short. Do you feel that way too? Make a list of your accomplishments. Take some time and reflect on the path you've taken. What do you still want to accomplish?
 Where to next?
I think it's a healthy thing to stop and reflect on how life is going once in a while. Because time flies. I don't want to get to the end of my life and wonder what I spent all that time on. I can learn a lot from the lips of those who know their life is short. Here is a list of the most common regrets of the dying. Which one speaks to you?
 I wish I'd had the courage to live a life true to myself, not the life others expected of me.
I wish I didn't work so hard.
I wish I'd had the courage to express my feelings.
I wish I had stayed in touch with my friends.
I wish I had let myself be happier.
I've always struggled with expressing my true feelings. I think it will always be my tendency to play my cards close to my chest. But becoming a Christ-follower and then a speaker has illustrated the blessings of sharing what's on my heart. My healing from brokenness can help others who are shattered.
My desire is to help others gain the exceptional life that Christ offers us. A share in the divine nature and power of God is available to those who believe. I think a scant few ever really tap into that abundant life. I plan to continue equipping and encouraging others to reach for and hang on to Jesus. His abundant life can bubble up out of us like a fountain that never fails.
My goals for this year include working to become certified by the International Coaching Federation as a Christian Life Coach. I'm excited to start this journey of learning and practicing great coaching skills. My hope is that this endeavor will occupy me for most of the next 20 years, God willing.
What are your goals this year? Comment below and let us know. Do you need help in figuring out where you're going or how you're going to get unstuck? I'd love to help you, just contact me.
"Remember him—before the silver cord is severed, and the golden bowl is broken; before the pitcher is shattered at the spring, and the wheel broken at the well, and the dust returns to the ground it came from, and the spirit returns to God who gave it" (Ecclesiastes 12:6-7 NIV).
…because U count, deb
Got a Prickly Person?
Subscribe here and receive my complimentary
Prickly People Prayer Calendar.
30 days of prayer for you, and 30 days of prayer for Prickly!