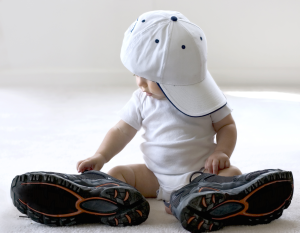 American cowboy mentality goes that you can be anything you want to be. It feels like we have a nation of trend-setters with big dreams, lots of guts, and a whole lot of optimism. But is our optimism a bit naïve? Can you really be anything you want to be? If you have a secret desire to know the answer, read to the end of this post for a special offer.
 What do you want to be?
You could say I've had a hard time figuring out what I want to be.
I thought I knew what I wanted to be when I was 12 – a writer. But somehow I ended up in a technical college getting an engineering degree.
I thought I knew what I wanted to be when I got married – a successful career woman. But somehow I ended up staying home and raising my wonderful kids.
I thought I knew what I wanted to be as a person – a worldly, well-travelled humanist. But somehow I ended up an awe-struck Jesus follower.
So here I am, when most of my friends are starting to retire, and I'm just starting out finding myself. It will surely be a lifelong journey for me.
How about you? Do you know what you want to be? Most of the people I ask say that they just kind of let life happen. They get so caught up in daily life they don't take the time to evaluate who they are or where they want to be.
I'm in the middle of a speaking circuit as I write this post. I've been sharing with women's groups about personalities. I ask them which personality type resonates with them the most. Very few women have a clue. Maybe that's because we've always been taught we can be anything we want to be.
Maybe that's not true.
Tom Rath, author of StrengthsFinder 2.0, wrote, "You cannot be anything you want to be—but you can be a lot more of who you already are."
 Who are you?
I've attended a couple of seminars on Strengths Finder. The Clifton Strengths Finder is the compilation of more than 50 years of work by Dr. Donald O. Clifton.  He had a purpose – to teach people how to discover their strengths.
Based on years of research and collaboration with Gallup Polls, they determined that there are 34 identifiable strengths that all people have. Those 34 strengths would be ranked differently based on our individual personalities. Each of us is gifted by God differently, but each of us is indeed gifted in some way. The challenge of finding our purpose in life is discovering what our innate gifts are and how we can best use them to reach the potential God wired into us.
The 34 strengths include:
ACHIEVER…ACTIVATOR…ADAPTABILITY…ANALYTICAL…ARRANGER…BELIEF…COMMAND…COMMUNICATION…COMPETITION…. CONNECTEDNESS…CONSISTENCY…CONTEXT…DELIBERATIVE… DEVELOPER…DISCIPLINE…EMPATHY…FOCUS…FUTURISTIC…HARMONY…IDEATION…INCLUDER…INDIVIDUALIZATION…INPUT… INTELLECTION…LEARNER…MAXIMIZER…POSITIVITY…RELATOR…RESPONSIBILITY…RESTORATIVE…SELF-ASSURANCE…SIGNIFICANCE…STRATEGIC…WOO.
Love that last one!
Here's a guide describing each strength. 
An interactive, timed test was devised to determine what an individual's top 5 strengths were. There is a nominal cost to take the assessment and get your results. I highly recommend taking it. Click here for Clifton StrengthsFinder assessment.
 My Strengths
My 5 strengths are Learner, Ideation, Intellection, Input and Empathy.  The results are given to you in a variety of reports, and are individualized based on what your 5 are.  As I studied the reports, I understood why I make every new task into a research project.  I love research!  Here are my top 5 and what they mean.
 Learner – I love to learn and constantly seek to improve. So if I'm learning a new skill, I can't quit when I reach my goal because it's not about having the skill, it's about acquiring the skill. I have to keep on learning new things just for the joy of learning.
Ideation – I'm fascinated by ideas, and can find connections between ideas that may come from very different genres. My kids always said I could find a salvation message in any movie I saw, that kind of thing. Drives them crazy. What can I say?
Intellection – I deeply love philosophical discussion and introspection. Never get enough.
Input – I'm in grave danger of becoming the latest candidate on The Hoarders. I collect ideas, and anything else my husband won't throw away. You don't even want to see my office, or my files. Or my brain.
Empathy – I have the ability to put myself in other people's shoes, so to speak. I don't just understand how they feel, I can actually feel what they feel. I don't know how this happens, but maybe my brain is especially able to pick up on the electrical impulses of other brains?
When I put these 5 strengths together, I see a very nice librarian. That's basically me! I had to smile when I saw these results the first time. Of course, now it's clear why I'm so interested in research about personalities, purpose, and exceptionalism in Christ.
I found the key that set me on this journey of self-discovery 20 years ago when I came face to face with the living God and began to realize for the first time in my life that Someone created me with purpose. I had always wondered what my purpose was. Why was I here? What is the meaning of my life?
Once I discovered my purpose, to glorify God, I began a journey that transformed my life and work. I've loved every  minute of the journey, finding more joy than I ever dreamed possible. When I'm living in my purpose, I can't help being joyful because I've found the sweet spot of my life. I've never looked back on this exciting journey.
 My free offer: do you want to find out who you are?
Several years ago I became a certified life coach. I've been helping friends set goals and find purpose. I wanted to share my joy at self-discovery with others.
Life coaching is a process that involves the following:
* Help in discovering what your God-given gifts are
* Guidance in developing your gifts into skills
* Brainstorming on how to use those skills to serve God in meaningful ways
* Working with you to eliminate any obstacles or blocks that stand in your way
* Praying for you and partner with you to success…God's way
 In celebration of my 20th anniversary this year, I am offering a special on life coaching.  The first 3 sessions are free. This is a great way to try something new if you feel stuck, there's no obligation to continue coaching after the three sessions.
All sessions take place by phone so it doesn't matter where you live. Each call lasts 50 minutes. Contact me today to get started.
…because U count, deb
Got a Prickly Person?
Subscribe here and receive my complimentary
Prickly People Prayer Calendar.
30 days of prayer for you, and 30 days of prayer for Prickly!