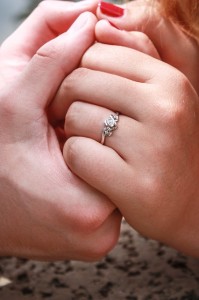 December is the number one month for wedding engagements, and no wonder. Just picture this scene. Dinner in a romantic, candle-lit restaurant. Christmas decorations festooning the windows. The unsuspecting bride-to-be is gazing into her boyfriend's adoring eyes. The waiter approaches with an ornate silver platter, sets it on the linen-draped table and whisks off the cover. There sits a small box, beautifully wrapped in sparkling paper. The next few minutes of excitement and emotion mark the beginning of the adventure of a lifetime.
The next 12 months
The romance seems to take a beating as the engaged couple begin to experience some of the stress of planning a wedding while meeting the varied and sometimes challenging needs of the extended families. They're suddenly faced with issues and decisions they never imagined.
Where to have the ceremony, his church or hers?
Should they have a destination wedding?
How many guests can we afford?
Who to invite to stand up in the wedding?
The real questions
And that's just the beginning! What about more deeply relevant questions that every couple faces at one time or the other.
How will you balance your career(s) with your family life and responsibilities at home?
What does being "too stubborn" mean to you?
How did your family of origin resolve conflict, and how does that differ from your spouse's family?
Are you concerned that one or more of your family members may cause trouble in your marriage? What boundaries could you agree to set to help you avoid trouble?
Who is more of a spender, you or your spouse? How will you resolve differences in spending vs. saving?
What are the differences in your spiritual beliefs, and can you accept your partner's differences?
Research has proven that you can predict your partner's view of marriage only 25% of the time.  In addition, premarital couples tend to be very idealistic about their relationship. Most of them don't ever discuss these types of questions, but tend to make assumptions that their loving partner will certainly agree on every topic!
Ounce of prevention = pound of cure
The annual divorce rate in the US is hovering around 50 percent, so marriage is a risky endeavor. And yet over 90% will marry at least once. We have expectations to have happy marriages.
Currently only 35-40 percent of engaged couples receive any premarital counseling at all. And yet premarital training has been shown to reduce divorce by at least 30% and to improve overall satisfaction in the marriage.
Perfect Christmas engagement gift
A tried and true resource is the Prepare & Enrich assessment. This assessment has been taken by 2.5 million couples worldwide in the past 25 years. It's based on the largest marital research ever conducted.
The purpose of the assessment is to gather each partner's opinions about the relationship. The assumption is you are the best expert on your union.  No one can know the relationship like you do.
I've been certified to facilitate the Prepare & Enrich assessment. My husband and I use the assessment in our work as marriage mentors at our church.
Are you looking for the perfect Christmas engagement gift? I would love to help you to give the perfect gift to your special couple. My package, called Loving Proof: Tools for Love that Lasts is available by contacting me. For details, click the image below.
…because U count, deb
Photo credit: iowaborn58 / Pixabay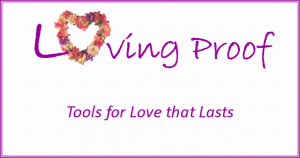 Got a Prickly Person?
Subscribe here and receive my complimentary
Prickly People Prayer Calendar.
30 days of prayer for you, and 30 days of prayer for Prickly!