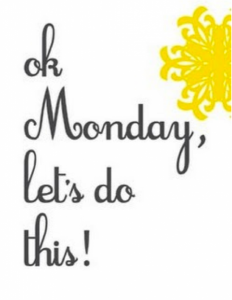 It's Monday. There's a boat-load of work to catch up on, my to-do list will take at least a week to finish.  The sun is shining, and here I am stuck inside. Are you struggling this morning like I am? Here are some tips on how to defeat Monday morning blues.
Annoying people who love Mondays
My friend Mike says he loves Mondays. He smiles brightly and explains that without Mondays, there would be no weekend to enjoy. Before you stop reading in disgust, I think it would be good to listen to Mike because of his qualifications.
He's self-employed.
He owns a Jaguar.
And a Porsche.
He has a driver.
Every month he goes to Dallas where he's opening up another office just because he likes warm weather.
He's 27.
With those credentials, I'm tempted to pay attention.
Mondays are hard because of sleep deprivation
Mondays are so hard because weekends are so easy. Don't we love to change the routine, sleep in, go out partying, stay up late?
Some people alter their sleep patterns drastically from day to day. We used to say our kids stayed up so much later on the weekends, it was as if they travelled to Hawaii once a week.
They didn't really have Monday morning blues, they had jet lag.
I know it's boring, but one great solution to Monday morning blues is to keep your sleep more regular. Try to go to bed at the same time every night.
I know…it is boring! But you'll thank yourself on Monday morning. And being successful is definitely not boring!
Mondays are hard because of inertia
Inertia is the resistance of a physical object to any change in its state of motion.
When it's hard for us to slow down after working all day, that's inertia.
When it's hard for us to speed up again after the weekend, that's inertia.
Here's a great idea to help the Monday mornings go more smoothly. On Friday or over the weekend, anticipate what you will need on Monday. Spend a little time preparing for it.
Make your lunch the night before.
Pick out your clothes the night before.
Clean off your desk before you leave on Friday.
Make appointments with yourself in your calendar for your work on Monday.
Try to clean out your email inbox Sunday night so you are starting fresh Monday.
Mondays are hard because we don't know where we're going on Tuesday
Without a vision or goals we may be just going through the motions, waiting for the weekend to get here. Monday is just another reminder that our life is not successful.
Not only is Monday hard, but Tuesday, Wednesday and Thursday aren't so hot either. We love to say "Thank God it's Friday!" But with that attitude, think of how much time has been lost.
Since something like 86% of people don't achieve goals, it makes sense that Mondays are universally hated. For someone who lives to be 85 years old, there will be 4420 Mondays. That's 106,080 hours of time.
Just imagine what you could do with that much time if you had set appropriate, exciting goals for yourself. You'd be as eager for Monday as my friend Mike. Get help with your goals by signing up for my free eBook, Goals Your Way.
How do you overcome Monday morning blues?
…because U count, deb
Photo credit: quote mondays – Google Search – Found at http://bit.ly/1r0RJvv
Got a Prickly Person?
Subscribe here and receive my complimentary
Prickly People Prayer Calendar.
30 days of prayer for you, and 30 days of prayer for Prickly!